Derbyshire portable W.C.s and wash facilities for hire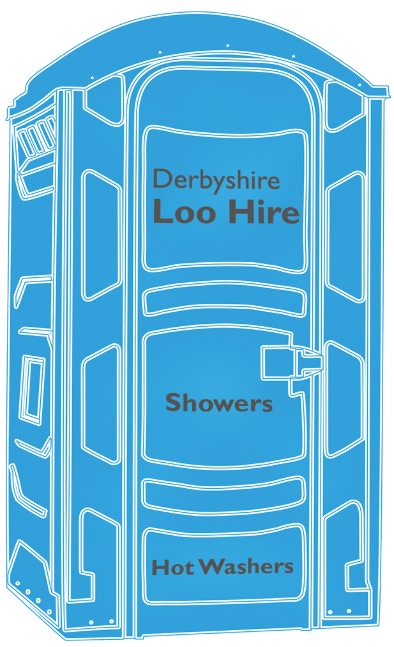 Telephone
For enquiries contact: 07976 354820
For enquiries contact: 07790 085423
Head Office: 0115 932 5454
Our first point of contact is the mobile phone number. Please contact us this way for a faster response.
Email
info@derbyshireloohire.com
Need a Nottingham Loo?

See our other website Nottinghamshire Loo Hire.

Email us on: info@nottinghamshireloohire.com
Domestic septic tanks emptied.
Servicing of other providers portable toilets.
Other providers toilets serviced.
Portable toilets bought and sold.

How many people can use one portable toilet cabin?
One cabin is suitable for 10 users.



Do your toilet facilities require water supply?
Warm running water
Flushing toilets with plastic seats
Paper hand towels
Liquid soap
Air fresheners

Do the loos need to be connected to a plumbed mains supply?

Can the waste tank overflow?
The waste tanks have a large safety margin and we only supply mobile toilets suitable for the number of guests expected. One toilet is suitable for 50 users.


Do your hot wash facilities require electrical supply?
Yes. Our portable toilets need a standard 13 amp household socket. We supply approx 25 meters of electrical cable as standard but can provide whatever you need on request.


How much does it cost to hire a mobile toilet?
Please call or contact us for a personalised quotation.

What is included in the price?
We try and include all the things you'll need such as:
Toilet paper - cubicles are supplied with five toilet rolls

Paper hand towels

Liquid soap

Air fresheners

When are the mobile toilets delivered?
We can deliver up to two days before the required date and collect by prior arrangement. We can be flexible to meet your needs.

How much access do you need?
All access roads and entrances must accommodate the height and width of the portable unit you have chosen.


Can your mobile toilets be sited on grass?
As long as the grass is well drained and reasonably flat, portable toilet units can go on grass. We always discuss these issues with customers prior to a booking. Where necessary, we offer free site visits.

Mobile toilets can be installed on sloping or uneven ground but the unit must be level in order to work properly. This can cause problems, so we always discuss these issues with customers prior to a booking. Where necessary, we offer free site visits for assessment.

Do the portable toilets smell?
No. The waste tank is a sealed unit to stop smells escaping and the interiors are kept fresh and regularly cleaned.

Do your mobile toilets fit in a marquee?

Can I move the portable toilet?
No. Customers are strictly advised not to move any portable toilet units once installed. If you need to move a unit, get in touch with us.